Be part of our global mission to
turn city people into farmers!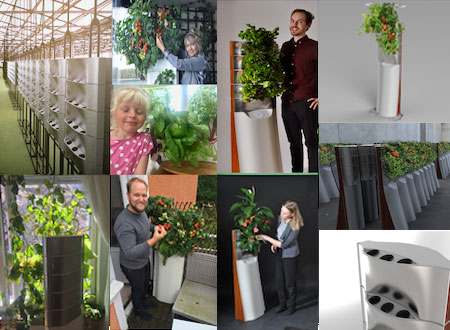 Bringing farming capabilities to city dwellers
We will deliver a unique Scandinavian-designed hydroponics unit to people around the world who want to grow their own vegetables, herbs and medicinal plants at home without using soil. Taking up less than one square meter in space, our product is ideal for urbanites in small city apartments, who would like to have a lush, organic kitchen garden.

Invest in our planet and grow with Gaia. A Scandinavian design with global importance.
The Gaia Grow System™ is a hydroponic growing unit that allows anyone to easily grow their own vegetables. Gaia has undergone four years of iterative design for both aesthetics and technique, culminating in a product that is the epitome of Scandinavian elegance. Functional and simple yet effective.
Additionally, the system is modular. A single grow box can be used on its own, or several can be stacked together and circled up for greater density. This means the Gaia system is flexible enough to serve both an urbanite in a small apartment and an entrepreneur with a full scale urban hydroponic farm.
People around the world are realising that we have to change our diet and how we produce our food. Gaia enables anyone to take part by growing their own vegetables using one tenth the fresh water of traditional croplands, and no pesticides, plastics or fossil fuel for transport.
We believe that success is inevitable
An increasing number of people around the world want to eat more healthily and live more sustainably, but they don't know where to start. Gaia Grow System™ will help make this possible as we move from the development to commercial phase. You can help by supporting us and pre-registering for our upcoming crowdfunding campaign. There is no commitment at this time. Check out our homepage www.getgaia.com for more information.
Pre-register for exclusive early access to our crowdfunding campaign on Seedrs!
When investing, your capital is at risk. For information about how we use your personal data, please see our Privacy Notice.

Investing involves risks, including loss of capital, liquidity, lack of dividends and dilution, and should be done only as part of a diversified portfolio.
This form has been approved as a financial promotion by Seedrs Limited, which is authorised and regulated by the Financial Conduct Authority. By completing this form you are agreeing to comply with and be bound by our Terms of Service, which together with our Privacy Policy, govern Seedrs's relationship with you in relation to your use of the Website.